Subtitle
10 tips for a successful holiday outfit
The year is coming to an end and, as always at this time, the - more or less - contemplative Christmas holidays are just around the corner. And because that's not enough, the big celebration for the turn of the year - New Year's Eve - is already waiting directly afterwards. On this occasion, many people are often tormented by the two questions: "What do I wear on Christmas?" and "What do I wear on New Year's Eve?" - So that you can keep a cool head and concentrate exclusively on the beautiful and exuberant mood, we have compiled the 10 best tips for the successful outfit at Christmas and New Year's Eve.
Christmas or New Year's Eve? - Not so different
For some people, the Christmas party is quite different from the New Year's Eve party - Christmas is spent feasting with the family and New Year's Eve is spent celebrating with friends. That's why people often go for a completely different outfit when it comes to planning the day and evening. Some people go to church at Christmas and then have a leisurely meal at home, while others use the free time to visit relatives again, eat in a restaurant or go out to celebrate with old school friends. Depending on the activity, of course, a completely different style of clothing is appropriate - yet it can be relatively similar on both Christmas and New Year's Eve.
Depending on the intention changes completely independent, whether Christmas or New Year's Eve, even the idea of the outfit!
On New Year's Eve, many people like it rather quiet and eat just as on Christmas Eve in intimate company at home before they really start celebrating. Other people, on the other hand, buy tickets well in advance for a big, pompous event at the turn of the year. You see - depending on the intention changes completely independent, whether Christmas or New Year's Eve, even the idea of the outfit. Usually, the festive mood is sprayed by a mix of noble look, the appropriate colors and a touch of glitter. This is true for the impressive New Year's Eve show as well as for the cozy family or friends* round. So we won't keep you in suspense any longer with the best 10 outfit tips for the end of the year and show you what really matters at the core:
1. not too casual
One thing should be clear to even the biggest Grinches and Scrooges among us: both Christmas and New Year's Eve are festive occasions to which you usually don't necessarily show up in your pajamas. Therefore, our first tip is that you can go the extra mile when choosing your outfit for the holidays. Of course, it doesn't have to be the most expensive evening dress or the suit from the bridal store around the corner, but a shirt, a noble turtleneck sweater, a blouse or at least a dress or a skirt in combination with tights may be. That way, your family and friends will know that you are worth dressing up for the occasion.
2. adjust the color choice
The colors that are in at the end of the year and thus in the middle of winter are rather muted - in other words: black, dark blue, gray or accents in white do well. In terms of bright colors, all variants of red and green as well as gold are permitted to match the occasion. Pastel shades and light colors, on the other hand, are more reminiscent of spring and summer and therefore do not match the homey atmosphere of Christmas and New Year's Eve.
3. glitter and glamour may not be missing
When all the lights flash on the Christmas tree, the tinsel sparkles, on New Year's Eve the sparklers are lit and the pop candies are pulled out, then the sprayed glitter only really creates the ambience that must not be missing in the dark season and only really breathes life into the highlights at the end of the year. The reflective rays of light are a real firework of emotions, and not just in children's eyes. So it's all the nicer if you reflect the glittering moments through your clothes, too. Not all textiles have to be infused with metallic yarn - which, by the way, creates the shimmering effect - but at least one garment or accessory with a glitter finish is almost a must on the holidays.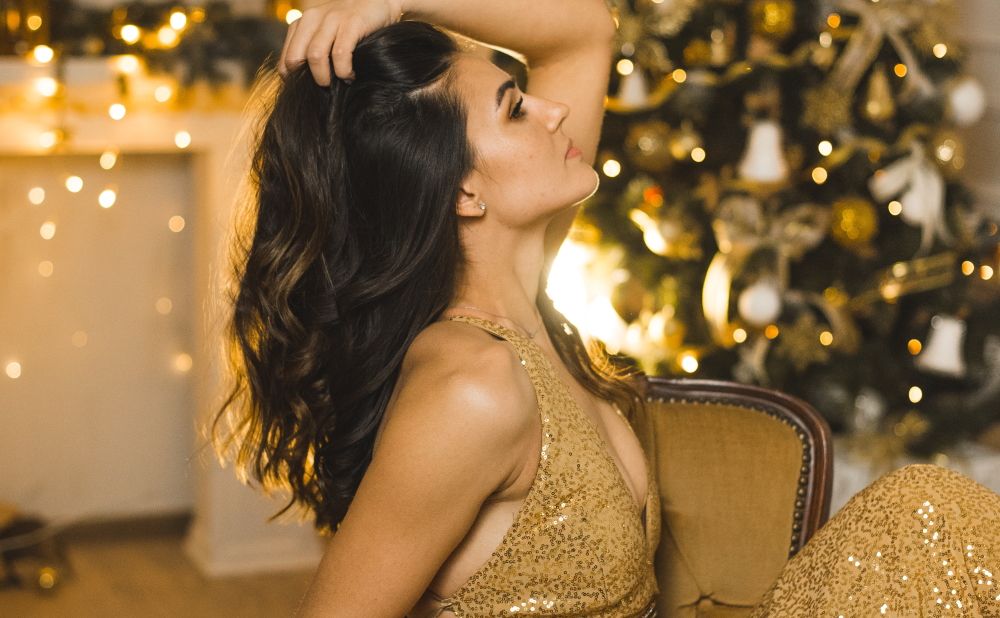 4. don't dress too warm
This is another fact that pretty much everyone has learned in the course of their lives: when things get hearty at the end of the year, not only the mood heats up, but also the room temperature. In most cases, guests don't even freeze when they go outside at midnight on New Year's Eve. One thing we should also consider every year again: Don't dress too warmly for the festivities, otherwise you'll get too warm very quickly and become sluggish and tired. A coat or down jacket for the way to the party is of course fine. For underneath it is recommended to put on something that you can take off later. A short-sleeved velvet dress with a cardigan or poncho, or a thin shirt with a jacket are ideal, for example, because this way you can regulate your felt body temperature a little better at the advanced hour.
5. do not dress too brightly
You may be wondering, after all, we have already commented on the colors. But what comes next is rather a well-intentioned advice for the somewhat more expensive wardrobe: Dress, apart from the above recommended color selection, better not too bright, because food and drinks at Christmas and New Year's Eve dinner are usually rather ungrateful when it comes to removing any stains: red and mulled wine, red cabbage, gravy, greasy raclette cheese and other consorts can usually not be washed so well from the light cashmere sweater. The white shirt and lace blouse should therefore rather stay at home.
6. mix traditional with modern
Without a doubt, Christmas and sometimes perhaps a more sedate New Year's Eve are associated with a long, time-honored tradition that sometimes makes the celebrations what they are. Therefore, the clothing may also be rather traditional and classically touched. But for those who find this too stuffy and do not feel comfortable in it, there is the option to accommodate an original mix of styles in the outfit. For example, next to grandma and grandpa, it certainly looks good to combine a nice, long knit dress with colorful, eye-catching costume jewelry or a stylish navy blue shirt with jeans and wear it loosely over the waistband. Marlene trousers with a tight-fitting shirt, for example, would be the perfect outfit for both New Year's Eve and Christmas. In addition, the hair neatly styled and already you embody a traditional celebration with your own youthful charm - no matter how old you are, of course.
But be aware that a too daring outfit often doesn't go down well on occasions like Christmas. Stay classy!
7. not too daring
To stay right on the topic of tradition: It's great if you think of something new to go with the more traditional aspects. But be aware that a too daring outfit, even if you like it very much, often doesn't go down well on occasions like Christmas and New Year's Eve. A very short skirt, a plunging neckline, a hipster Hawaiian shirt and a casual cap are great dress ideas - except at Christmas, where so many generations come together. New Year's Eve is also more of a pompous celebration, where things can be classy and less "exciting".
8. patterns and motifs: wintry or not at all
The funny Christmas knit sweater and the classic Norwegian look good under the Christmas tree on Christmas Eve; the dress embroidered with stars is a great eye-catcher on New Year's Eve. A classic glencheck or tartan pattern in the above colors also makes a nice festive decor for a blazer, vest or skirt. What else works well besides these patterns and motifs is the traditional houndstooth. Unfortunately, that's pretty much it - you should be careful with patterns and motifs that are too flashy. Cute polkadots and provocative skulls, as well as motifs that are not appropriate for the season, are rather inappropriate on the festive holidays and can then be unpacked again from New Year.
9. do not forget shoes
Even if most of the evening is spent indoors, it should not be underestimated what statement shoes have to the outfit. Therefore, they should definitely be coordinated with the overall look and form a unit with it. So if you decide to go to the party quite formally with suit trousers and a shirt or with a chiffon dress, then of course you should not wear sneakers with it. A pair of (faux) leather shoes, such as Budapest or other lace-ups, as well as plain ankle boots will be enough to complete the outfit. Of course, you don't have to wear high heels for the dinner with your relatives - unlike the New Year's Eve party, where high-heeled shoes are not only allowed, but recommended. If you do wear open-toed shoes, though, be sure to choose tights to go with them.
10. show attention to detail with jewelry and accessories
Since Christmas and New Year's Eve are cozy, pompous and traditional with excellent food, which should now be topped with a more than appropriate outfit from you, of course, it may not lack attention to detail. If colors, patterns and the style are once coordinated, it should of course also be the accessories. Funny earrings with Christmas motifs, a bright bow tie with an equally eye-catching print, the little party chimney sweep hat on your head and the necklace with the new year's number and many, many more extravagant, but still coherent details can be the finishing touch for a festive outfit. With this, you can then, no matter in which round, shine with certainty.
We wish you a Merry Christmas and a Happy New Year with your perfect festive outfit!